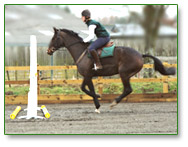 Because we work and train horses competitively ourselves, we understand the requirements of year round surfaces to provide a stable, clean, low maintenance, consistant riding surface whatever the elements may throw at you.
Attention to detail at every point of the design and build is the key to the Peart Arenas approach. Nothing is overlooked, no matter how apparently trivial, as this is where trouble in later days often springs from.
Quoting an ancient Chinese proverb; "When the boat reaches midstream, it is too late to mend the leaks". Correct and appropriate planning, groundwork & drainage are the essential foundation of a quality riding surface - We do our homework, and consequently avoid the leaks before we set sail!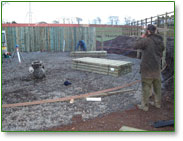 At Peart Arenas every single job we undertake, regardless of scale or budget, is treated as a totally unique one-off job. Complete with it's own detailed site inspection, written, itemised quotation and plan of action with an aim to constructing the perfect arena for your exact requirements.



Constructing the perfect all weather arena is a subtle blend of design, practical know how and empathy to both horse and rider.
Planning - Consideration - and not a little Inspiration! The Peart Arenas way.