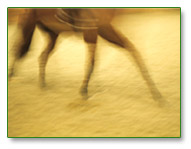 The surface of the riding area is very much like the icing on the cake. Peart Arenas have the knowledge and expertise to be able to advise and supply a comprehensive range of all-weather riding surface materials based upon your exact requirements and budget.
The following list is just a short selection of surfaces available from Peart Arenas. If you have a specific surface requirement, or would like to seek advise on the appropriate surface for your application, don't hesitate to contact us.
To enquire about any surface, simply contact us, or use the enquiry form at the bottom of this page.